Presentation
Program features
HAPPYneuron Pro is a platform for professionals for the effective delivery and management of cognitive remediation and rehabilitation programs in a patient centric manner.
It facilitates the effective treatments for a variety of neurotrauma, neurodegenerative and neuropsychiatric conditions through specialized programs consisting of fun and interactive games specially designed for targeted stimulation of key cognitive functions.
It provides a large set of key features:

Patients Management Interface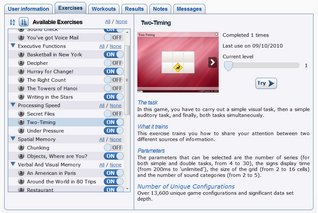 Patient file: Select appropriate Program and Modules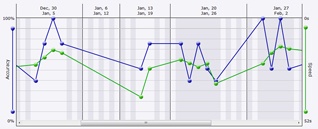 Patients Management Interface
Engaging: HAPPYneuron Pro exercises are based on successful designs validated by millions of HAPPYneuron users world-wide, thereby providing a proven engagement level for users.
Rewarding: real-time feedback and highly positive reinforcement for users.
Ecological & Educational: many exercises have real-life direct or indirect applications enabling practitioners to associate the cognitive remediation benefits to situations in daily life.
Customization: the therapist can precisely select the difficulty parameters. The patients progress through a pre-defined set of exercise levels according to specific rules. The clinician can also select the modules that fit the therapy needs.
Fully monitored: a control dashboard enables practitioners to track ongoing compliance and performance over time on specific exercises and cognitive functions.
Group management: manage patients and/or practitioners groups (clinics, hospitals or retirement Homes) as needed.
On-line: applications are always up-to-date and new exercises are immediately and directly accessible.
Home training: opportunities for partial distance therapies that are customized and controlled by the therapists.
Secure: all communications are fully encrypted and secured. Patient records are confidential to the patient and the clinician.
Easy to deploy: No software to install or specific device required. Web browser accessible.
Runs on PC and tablets with all operating systems.
Data exports: easy export data to Excel files for scientific research analysis.
HAPPYneuron Pro offers a variety of cognitive remediation and rehabilitation programs, assigned by the clinician and performed by the patient. A program is specific cognitive stimulation solution that addresses the needs of patients with particular medical conditions that can benefit from cognitive therapies. Programs consist of a series of cognitive exercises, specific levels of those exercises and sequenced according to a particular formula or algorithm. Each program has been developed in partnership with specialists and validated by research.