Custom Programs
HAPPYneuron Pro is designed to be very flexible. We can create custom programs that answer very precise needs and that provide adapted stimulation to a specific population or a very specific situation.
Our « Memory Treatment » is an example of a program that shows the effectiveness of our customized solutions. This program has been developed with and for our partner MTCA (Memory Treatment Centers of America) to provide dedicated care in their facilities. It is now used in many facilities across the USA by hundreds of healthcare professionals.
You can therefore design, with our help, a program that precisely meets your needs. Contact us to know more.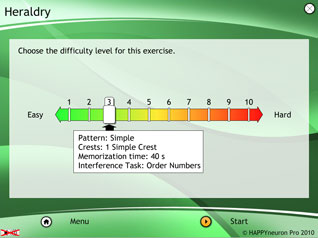 Sample of detailed control panel for selecting difficulty level
choose the exercises and modules to be incorporated into the program
customize the program settings (Difficulty levels and settings, Progression rules, Graphics, Instructions, etc.)
assign training sessions to patients that can be done remotely or with a therapist
monitor the patient's progress throughout the cognitive therapy sessions with extensive graphs showing compliance and progress made on each task
adjust the settings during the treatment